EIN Presswire | Newsmatics
incuda Drives 50% Increase in Self-Service Analytics Adoption with Yellowfin BI
News provided by
EIN Presswire
Nov 21, 2023, 12:00 PM ET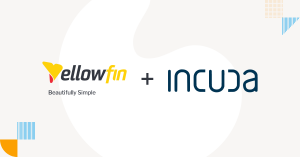 Full-stack data warehouse platform offers standardized and self-service analytics for mid-sized retail customers
Scalability across all our clients was our most important driver when we began searching for a BI solution partner."
— Franz Posch, incuda Founder
AUSTIN, TEXAS, US, November 21, 2023 /
EINPresswire.com
/ -- Global analytics software provider
Yellowfin
celebrates over a decade of partnership with IT solutions and services company
incuda
, helping the Germany-based organization drive a 50% increase in data adoption among its mid-sized retailer client base. With a shared commitment to innovation and collaboration, this long-standing relationship has yielded significant success, benefiting both organizations and incuda's customers to leverage data easier and faster.
Founded in 2012, incuda provides a full-stack data warehouse platform, including data centers, databases and data models and reporting tools, for mid-sized multi-channel retailers engaging in marketing activities across multiple mediums, including e-commerce, stores, call centers and catalogs. The data platform uses a white-labeled version of the
Yellowfin BI solution
, leveraging its extensive embedded analytics capabilities to elevate incuda's core offering for over 11 years, while the company continues to evolve its use of the Yellowfin suite today.
"For me, the most amazing thing is that we're still using Yellowfin after 11 years," said Franz Posch, Founder of incuda. "The market evolves, the players are changing, the versions have different strengths, and we've changed a lot of the different modules – but we've stayed with Yellowfin. It's been an amazing solution for incuda for over a decade.
"What we see changing with our clients who use our platform with Yellowfin is they are increasing the number of employees that work with data – at least a 50% increase in data consumers, and we see this as influenced by their use of Yellowfin."
The company originally implemented Yellowfin in 2012 as part of its incuda BI product in an effort to provide standardized reporting, dashboards and data warehousing for a new generation of mid-sized, multi-channel retailers that were relying on more traditional solutions for their insights. Combined with Yellowfin's data visualization and self-service capabilities, incuda's clients could connect to data sources, access all of their data, calculate their own metrics, and customize and build upon their Yellowfin-powered dashboards and reports faster and easier than before.
"Supporting analytics democratization for over a decade, our partnership with incuda has been a true success and together, we've empowered mid-sized retailers to drive a 50% surge in data adoption," said John Burr, General Manager at Yellowfin. "As the market evolves, our commitment to collaboration with incuda and the strength of the Yellowfin platform will drive a continued increase in data-driven cultures. We are proud to have played a vital role in enabling incuda's clients to increase their data adoption, and we're excited to continue enabling organizations to unlock the full potential of their data."
incuda continues to explore further avenues it can further leverage the Yellowfin BI suite for its full-stack data warehouse platform, and enhance its product experience for retail customers by focusing on the story behind the numbers, using Yellowfin to help provide more relevant and contextual content and insights on top of the figures, all at scale.
"Yellowfin is one of the key components that allowed us to build a standardized product in the first place, with excellent scalability across our clients. Without its multi-tenancy, I think the approach would have been much less attractive for us and for our clients. It is a critical key component to enable our product as a scalable platform," concludes Franz.
About Yellowfin BI
Yellowfin is a powerful embedded BI and analytics software vendor with a suite of world class products powered by automation. Yellowfin is recognized as an innovator by the world's leading analyst firms. More than 29,000 organizations and over 3 million end-users across 75 countries use Yellowfin every day.
About incuda
incuda is the enabler for fast change from traditional to a data-driven business. We empower multi-channel retailers and ecommerce companies with our BI platform, knowledge & expertise. We let them focus on business by handling end-to-end BI transition, integration and operations.
Regan Brown, Head of Global Marketing, Yellowfin, Inc.
Yellowfin
regan.brown@idera.com
Visit us on social media:
Facebook
Twitter
LinkedIn
YouTube
NOTE: This content is not written by or endorsed by "KRON", its advertisers, or Nexstar Media Inc.
For inquiries or corrections to Press Releases, please reach out to EIN Presswire.